Where to find my LinkedIn Partner ID?
Click the Manage Insight Tag drop-down menu on the right side of the screen and choose See tag.
Click 'I will use a tag manager' and copy your partner ID to the app.
Where to find my Quora Pixel ID?
Click Setup Pixel on the right corner.
Click Install with a partner and click Next.
Copy your Pixel ID to the app.
How to verify my tags?
You can log in to your conversion after enabling the app, you will find your event tag has been verified.
To further debug your conversion tracking set up on Twitter, consider using Twitter pixel helper extension. This extension will allow you to quickly see whether the Twitter tag is firing on a particular page and, if so, what parameters are being sent to Twitter.
Please give some time for your pixel to verify the changes, usually takes around 24 hours
Where to find my LinkedIn events' conversion ID?
Once you login to your campaign manager, click Account Assets > Conversions
Click Create a Conversion
After finish step 1 and 2, follow the image and copy your conversion ID to the app:
You can create the event through the website as well, for more information about how to create events through the website, please follow: LinkedIn official FAQ
Where to find my Reddit Advertiser ID?
Click Reddit Pixel on the left corner.
Click Google Tag Manager and copy your advertiser ID to the app.
Where to find my Twitter Pixel ID?
Log into your ads account at ads.twitter.com
Under "Tools" select "Conversion tracking". (Not seeing a Tools tab in your account? This is likely because a credit card hasn't been added to your account.)
After agreeing to our Terms and Conditions, click the "Generate a website tag for conversion tracking" button.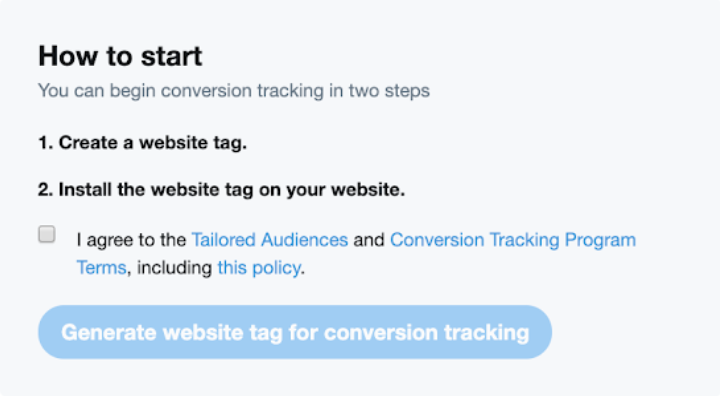 Copy your pixel ID from the yellow part to the app.